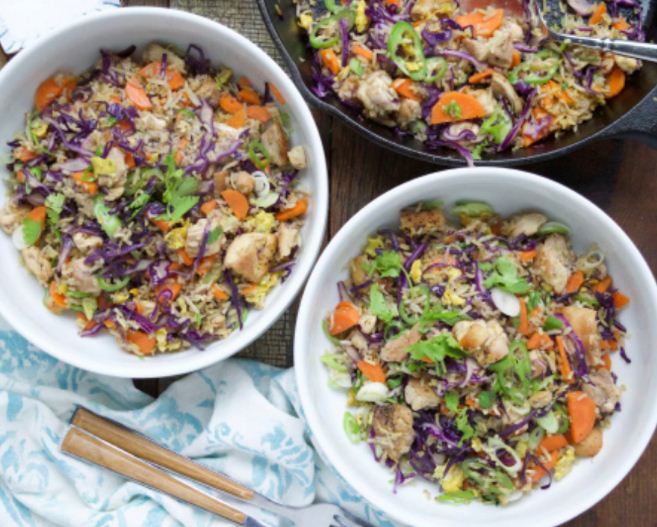 Colorful Curried Fried Rice with Chicken
Why brown rice?
• Brown rice is the whole grain version, before bran and germ are removed
• Higher fiber content, more nutrients. better absorption during digestion
• Nutty taste and heartier feel!
How to substitute brown rice in a recipe that calls for white?
To cook brown rice simply add an extra 1⁄2 cup of water and 15 min to your regular rice cooking procedure or follow the instructions on the back!
Cooking Terms
Mise en place

prepping all ingredients (peeling, cutting, measuring) before you begin cooking

Zest

Create a flavor enhancer by grating the colorful peel of a citrus fruit

Marinate

Coat of cover a food in a liquid, usually with an acid like lemon juice, to tenderize and add flavor

Vinaigrette

Savory dressing or marinade usually made from a mixture of oil, an acid, and seasonings
Ingredients
2 cup brown rice
1/2 each bunch fresh cilantro
1 each head red cabbage
2 each carrots
4 each green onions
1 each Serrano chili pepper (or jalapeno)
4 each garlic cloves
8 oz chicken thighs
2 each eggs
2 tbsp Curry spice blend (see Notes)
From Your Home
Salt
Black pepper
Canola or olive oil
Water
What You Need
Medium saute pan
Small bowl
Steps
Mise en place
Read though the entire recipe before getting started. Wash and dry all produce. Mince cilantro leaves and stems. Remove top and peel from carrot and discard; then, cut in half and thinly slice into half moons. Thinly slice red cabbage avoiding the hard inner core; discard core. Remove root ends from green onions and discard; bias slice. Mince or grate garlic. Remove root end from serrano and discard; thinly slice pepper. Crack egg into small bowl; season with a pinch of salt and pepper and lightly beat using a fork. Remove chicken thighs from package; pat dry.
Cook Rice
Place brown rice, 4 1/2 cups water and a pinch of salt and pepper in medium pot over medium heat. Bring to boil; cover and reduce heat to low. Cook 30 minutes until tender. Fluff with fork. While rice is cooking, begin searing chicken thighs (Step #3).
Cook chicken
Heat 1 teaspoon oil in a medium saute pan over medium heat. Season chicken thighs with salt and pepper. When pan is hot, add chicken to pan and sear each side for 5 -6 minutes until golden, crispy and cooked through. Remove chicken from pan and cut into 1/4 – 1/2 inch pieces.
USDA recommends cooking chicken to an internal temperature 165 degrees F.
Cook eggs and stir-fry rice
Heat 1 teaspoon oil in pan used to cook chicken over medium heat. Add beaten eggs and stir, scrambling until fully cooked. Remove cooked egg from pan, add 1 teaspoon oil, curry spice blend and garlic. Cook 1-2 minutes until aromatic. Turn heat up to medium high. Add rice, carrots, chopped chicken thighs and scrambled egg to pan; stir-fry 4-5 minutes until rice is lightly browned.
Finish rice
Add red cabbage to fried rice; cook 2-3 minutes, until starting to become a little soft. Remove from heat and add serrano, cilantro, and green onions; stir until incorporated.
Note: Adjust the heat to your preference by using more or less of the serrano slices!
Plate your dish
Serve fried rice on plates or in bowls with any extra serrano slices on the side for people add more. Enjoy!