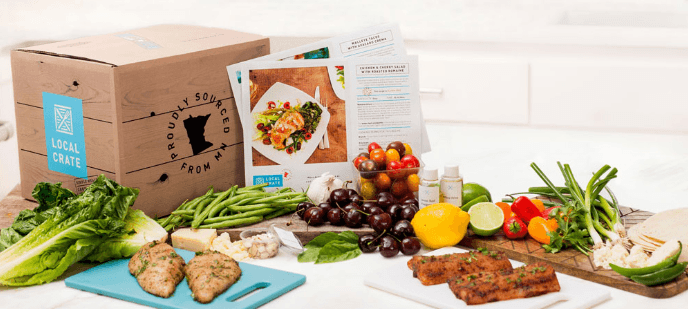 Receive Your Meal Kit Each Monday
See the info to the left for your assigned delivery or pickup location for all 10 weeks!
Refrigerate
Unpack and refrigerate your meal kit by 6pm on Monday evening.
Make Your Meal!
Cook your meal by Friday:
Read the whole step-by-step instruction card before you begin
Follow the first step ("mise en place") to get all ingredients ready to cook
Follow all instructions
Enjoy your home-cooked meal!
Complete Survey
You'll get an email, phone call or text (whichever you prefer!) every Friday with 7 questions about your meal that week – fill it out by Sunday night and get entered to win a weekly drawing!

Local Crate
A key piece of the East Side Table project is the development of a Make-at-Home Meal Kit pilot program. Late 2016, the East Side Table Working Council partnered with Saint Paul based subscription based meal kit company Local Crate to develop and implement the Make-at-Home Meal Kit program. The partnership with Local Crate, who has provided over 1000+ hours pro-bono time, made it possible to develop an accessible, cost-effective, and culturally relevant meal kit program for the diverse communities on Saint Paul's East Side.
As a major partner in the East Side Table Make-at-Home Meal Kit program, Local Crate donated their time and business expertise to format culturally appropriate recipes, work closely with East Side Table partner organizations, source locally grown produce for meal kits, and coordinate logistics for the packing and delivery of 120 Make-at-Home Meal Kits for East Side Table's Fall 2017 pilot round. In addition to the development and day-to-day operational support, Local Crate brought Minnesota based courier service, Street Fleet, on board to provide discounted delivery to Meal Kit participants.
Learn more about Local Crate!