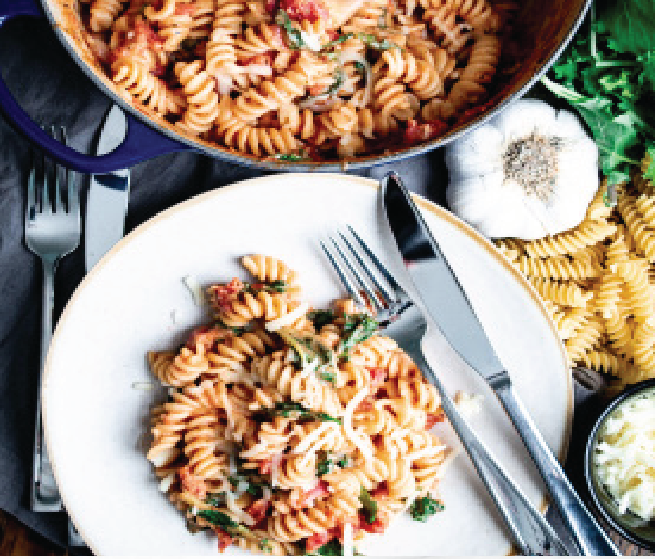 Five Cheese Creamy Rustic Tomato Pasta with Wilted Kale
Nothing says cozy deliciousness like a bowl full of cheesy,
creamy pasta. This rustic pasta dish is first flavored with a
zesty Italian blend that will brighten your senses without any
extra sodium. And it's easy to boost the nutrient content of
this dish by adding fresh veggies, like kale and onion, plus
reduced-sodium canned veggies (like diced tomatoes, in this
case). Feel free to roast or saute add any other vegetables
your family likes (zucchini! broccoli! whatever!) and toss
them in as well. Creativity is key to having fun in the kitchen!
Another recipe alteration you can try – to boost the fiber
content in this recipe – is swapping the regular pasta with
whole grain pasta. More fiber = greater satiety, meaning you
will stay more full for longer! Plus you can find whole grain
pasta in fun shapes like penne and rotini. Don't be afraid to
change it up!
Cooking Terms
Mince

Cut ingredients into very small pieces.

Al dente

The ideal texture of pasta cooked firm to the bite; literally translates to "to the tooth."

Simmer

Cook gently below or just at boiling point.
Ingredients
1 each can reduced-sodium diced tomatoes
4 1/2 cup fusilli pasta
1 cup shredded cheese blend
1 each onion
1/2 cup sour cream
1 each large bunch of kale
2 tbsp red wine vinegar
5 each cloves garlic
6 each chicken thighs
2 tbsp Italian seasoning
From Your Home
Salt
Black pepper
Olive or canola oil
What You Need
2 Large pots
Steps
Mise en Place
Read through the entire recipe before getting
started. Wash and dry all produce. Mince
or grate garlic. Remove ends from onion,
peel and small dice. Remove kale leaves
from tough stems using a knife. Discard
tough stems. Tear leaves into 1″ pieces.
Remove chicken from package and dice into
1/2″ cubes. Set aside. Bring 12 cups of water
with a pinch of salt to a boil in a medium pot.
Add fusilli pasta and cook at a rolling boil
for 10-12 min until pasta is al dente. Reserve
3 cups pasta water, then drain well and set
aside.
Make Sauce
Heat 2 Tbsp. oil in previously used pot over
medium-high heat. Add garlic, chicken,
onion and Italian seasoning and sauté for
10-15 minutes until lightly browned,
aromatic and softened. Add diced
tomatoes, pasta water, red wine vinegar,
and a pinch of salt and pepper. Toss until
incorporated.
Simmer Sauce
Bring sauce to a simmer and cook simmering
for 8-10 min until flavors have incorporated
and sauce has reduced by half.
Mix Pasta
Add cooked fusilli pasta and toss to
incorporate.
Finish Pasta
Add sour cream to pasta and mix gently until
it melts in and incorporates. Fold in kale and
5 cheese blend. Toss gently for 1-2 min until
lightly wilted.
Plate your Dish
Divide pasta between two bowls. Enjoy!