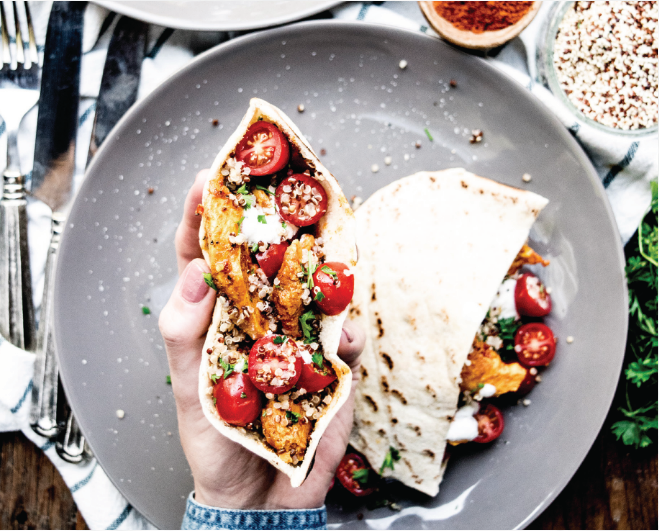 Street Chicken Shawarma with Quinoa Tabbouleh & Savory Yogurt Sauce
Shawarma is a Middle Eastern roasted meat that has been
marinated in aromatic spices and then cooked on a spinning
rotisserie until juicy and tender. We've adapted this classic street
food for a homemade meal where you marinate and roast the
chicken in the oven to mimic the dry heat of a rotisserie.
This dish also features a flavorful, yet health-conscious quinoa
tabbouleh. Tabbouleh is a vegetarian salad made mostly of finely
chopped parsley, tomatoes, and bulgur and seasoned with olive oil,
lemon juice, salt and pepper. Traditionally this salad is made with
bulgur, which is a special type of wheat germ; but quinoa is just as
delicious, more readily available, and a healthier alternative so we
swapped it in here for a win-win! Our quinoa blend combines white
and red quinoa for color but feel free to use only white quinoa if
red is not around. It won't impact the recipe outcome!
Load all this flavor onto a plate, top with yogurt sauce and eat with
some pita or naan, and you're well on your way to a new, fun,
family favorite.
Cooking Terms
Marinate

To coat or cover food in a liquid, usually with an acid, to tenderize and add flavor.

Shimmering

Oil obtains a shiny, glistening look and a flowy texture, like water as it coats the bottom of the pan.

Zest

To finely grate the peel of a citrus fruit. Roast: To cook food evenly with dry heat, in an oven or over an open flame.
Ingredients
1 cup quinoa blend
2 each pita bread
3 tbsp shawarma spices
8 each cherry tomatoes
1 each lemon
15 sprig parsely
6 each chicken thighs
1/2 cup yogurt
From Your Home
Salt
Black pepper
Olive or canola oil
What You Need
Oven-safe baking dish
Medium pot with lid
Small mixing bowl
Steps
Marinate Chicken
Read through entire recipe before getting started. Pre-heat oven to 400ºF. Zest lemon; cut in half and juice. Remove chicken thighs from package; rinse and pat dry. Slice chicken into ½" thick strips and place in oven-safe baking dish. Toss with 1 Tbsp. oil, 1 Tbsp. lemon juice, 1 tsp. lemon zest, 4 Tbsp. water, shawarma spice blend and a pinch of salt and pepper. Cover and set aside to marinate, about 10-15 min.
Mise En Place
Wash and dry all produce. Cut cherry tomatoes in half. Rough chop parsley leaves and tender stems, discard tough parsley stems.
Make Quinoa Tabbouleh
In a medium pot, heat 1 Tbsp. oil over high heat until shimmering. Add quinoa blend and sauté until lightly toasted and aromatic, 1-2 min. Add 2½ cups water and a pinch of salt and bring to a boil. Cover, reduce heat to low and simmer until quinoa is fluffy and tender and water is absorbed, 15-20 min. Fluff with a fork. Transfer to a medium mixing bowl and refrigerate until cooled. While quinoa is cooking, proceed with Step #4.
Notes: If the quinoa has absorbed the water but isn't fully cooked after 15-20 min; add ¼ cup water, cover and cook for 8-10 min more.
Roast Chicken
Cover with lid or aluminum foil and roast chicken shawarma for 18-20 min, rotating the baking dish halfway through cooking, until chicken is fully cooked. Keep the oven on. While chicken is roasting, proceed with Step #5.
The USDA recommends cooking poultry to an internal
temperature of 165ºF.
Finish Meal
Fold cherry tomatoes, parsley, 1 tsp. lemon zest, 2 tsp. lemon juice and 1 tsp. oil into cooled quinoa to make tabbouleh. Season with salt and pepper and set aside. In a small bowl, whisk yogurt with 1 tsp. lemon juice. Season with salt and pepper. Stir to combine.
Plate Your Dish
Warm pita bread in oven for 3 to 5 min, or until soft and pliable. Cut into quarters and arrange on each plate. Top with quinoa tabbouleh and chicken shawarma. Drizzle with yogurt sauce. Enjoy!
Pro-tip: Drizzle shawarma juices on quinoa
tabbouleh for a little extra flavor!