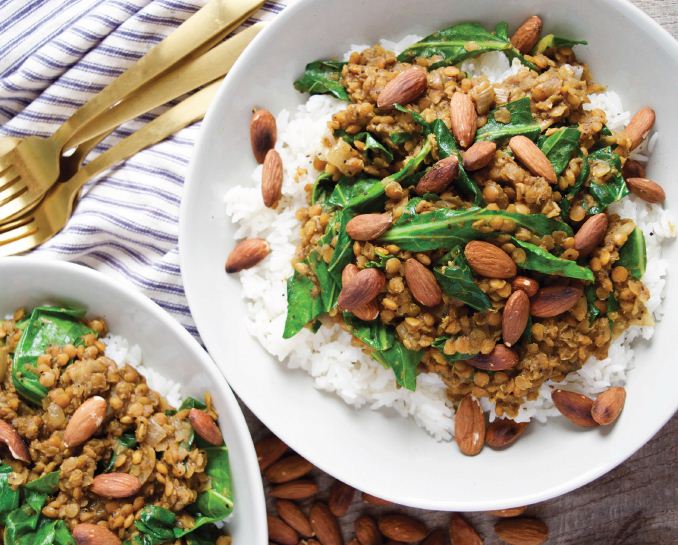 Red Lentils & Greens with Toasted Almonds and Brown Rice
This Ethiopian Red Lentils & Greens recipe is courtesy of East Saint Paul are caterer and chef Nessib Negusse! Nessib immigrated to Minnesota in 2007 from Ethiopia where he owned a restaurant that served more than 400 people per day. He holds degrees in Culinary Arts in both nations. His catering company, Amazing Dining Services, began in June 2015 as a way to merge his small business experience and seven years kitchen experience at institutions in the Twin Cities.
For seven years, he prepared food at Fairview and United Hospitals, executing and creating recipes for more than 3,000 guests daily before accepting a position at Saint Mark's School as Kitchen Manager in 2014 where he planned breakfast and lunch programs for 480 students daily. He currently works for Steps Academy in Saint Paul as Kitchen Manager and coordinates the menus and food service plan for 380 students daily for breakfast and lunch. His catering company coordinates multiple school and youth meal programs for multiple sites across the Twin Cities while working out of East Side Table partner Kitchen On The Bluff's commercial kitchen.
Cooking Terms
Saute

cook quickly in a small amount of fat over high heat; literally "to jump"

Simmer

to stew gently below or just at a boiling point

Mince

cut ingredients into very small pieces
Ingredients
1.5 cup brown rice
5 oz red lentils
2 tbsp Ethiopian spice blend
6 each cloves garlic
2 oz fresh ginger
1 each onion
2 oz almonds
1 each lemon
From Your Home
Salt
Black pepper
Olive or canola oil
What You Need
Medium pot with lid
Large saute pan
Small pan
Steps
Mise en place
Read through entire recipe before getting started. Wash and dry all produce. Mince or grate garlic. Peel ginger, then mince or grate (Try peeling your ginger with a spoon! Scrape ginger knob with spoon to cleanly remove skin without losing too much ginger). Peel onion, cut in half lengthwise and dice. Remove collard greens from tough stem; then cut into 1" pieces. Cut lemon in half.
Cook rice
Add 1 Tbsp. oil to small pot over medium-high heat. Add rice; cook for 1 min. Add 1¾ cup water and stir. Bring to boil, cover, and reduce heat to low and cook for 20 min. Once done, fluff with fork. While rice is cooking, start to sauté aromatics (Step #4).
Saute aromatics
Heat 2 Tbsp. oil in medium deep sauté pan over medium heat. Add onion and cook 3-4 min until beggining to soften and caramelize. Add ginger, garlic and lentils. Sauté 2-3 min until aromatic. Add Ethiopian spices and cook another 1-2 min.
Finish lentils
Add 2 ½ cups water to lentils and bring to a simmer. Cook stirring occasionally for 15-20 min until lentils are soft and most water has been absorbed. Add collard greens, mix to incorporate and continue to cook another 2-3 min. Remove from heat.
Toast almonds
Add almonds to small pan over medium heat. Toast almonds stirring constantly until nutty and aromatic, about 4-5 min.
Plate your dish
Divide brown rice between two plates. Top with lentils, almonds and a squeeze of lemon. Enjoy!