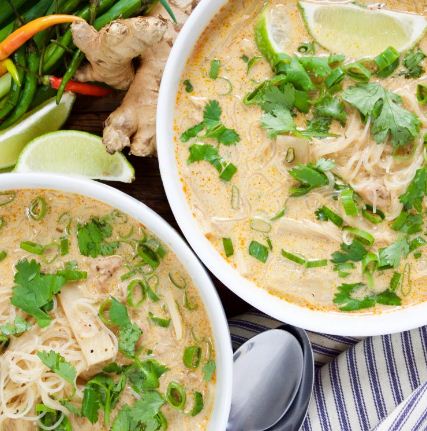 Khao Poon (Red Curry Noodle Soup with Chicken)
Khao Poon is a zippy Laotian noodle soup popularized in Hmong cuisine, and many Southeast Asian countries…as well as right here in Minnesota! And there's no question why with layers of flavor including creamy coconut, fresh herbs, zesty lime, and red curry. This is a perfect celebration of summery flavors and warming soup in a quick, simple to make dish.
Cooking Terms
Bias slice

cutting or slicing on a diagonal angle

Saute

"to jump", to fry in a small amount of fat over high heat

Simmer

to stem gently below or just at boiling point

Mince
Ingredients
2 each Thai chili
6 each garlic cloves
1 each Makrut leaf (lime leaf)
4 oz rice vermicelli noodles
8 sprig cilantro
1 each can bamboo shoots
1 each can coconut milk
3 each scallions (green onions)
3 tbsp Thai red curry paste
1 each lime
2 oz ginger
6 each chicken thighs
What You Need
Canola oil
Salt
Pepper
Water
Steps
MISE EN PLACE
Read though the entire recipe before getting started. Wash and dry all produce. Mince or grate garlic. Thinly slice Thai chili. Tear cilantro leaves and stems. Cut lime into eighths. Remove root ends from scallions and discard; then, bias slice. Peel ginger and discard peel; then mince or grate. Drain bamboo shoots and discard liquid. Remove chicken thighs from package; rinse and pat dry. Cut into ¼" pieces.
Cook chicken
Heat 1 Tbsp. oil in large pot over medium heat. Season chicken with a pinch of salt and pepper. Cook chicken 3-4 min until cooked and lightly browned. Add garlic, ginger and Thai chilies and sauté another 2-3 min until softened. Note: Use Thai chilies according to heat preference. USDA recommends cooking chicken to an internal temperature 165ºF.
Make soup base
Add red curry paste, Mankrut (lime) leaf and 2 Tbsp. coconut milk to pot. Sauté, stirring constantly 2-3 min until liquid begins to simmer and becomes very aromatic.
Make soup broth
Add 2 cups water and a pinch of salt and pepper. Bring to a simmer and add vermicelli noodles and stir. Cook simmering 5-6 min until noodles have softened and fully cooked.
Finish Khao Poon
Add remaining coconut milk, bamboo shoots, cilantro and scallions. Stir to incorporate.
Plate your dish
Remove Makrut (lime) leaf. Divide Khao Poon between two bowls and serve with a squeeze of fresh lime. Enjoy!