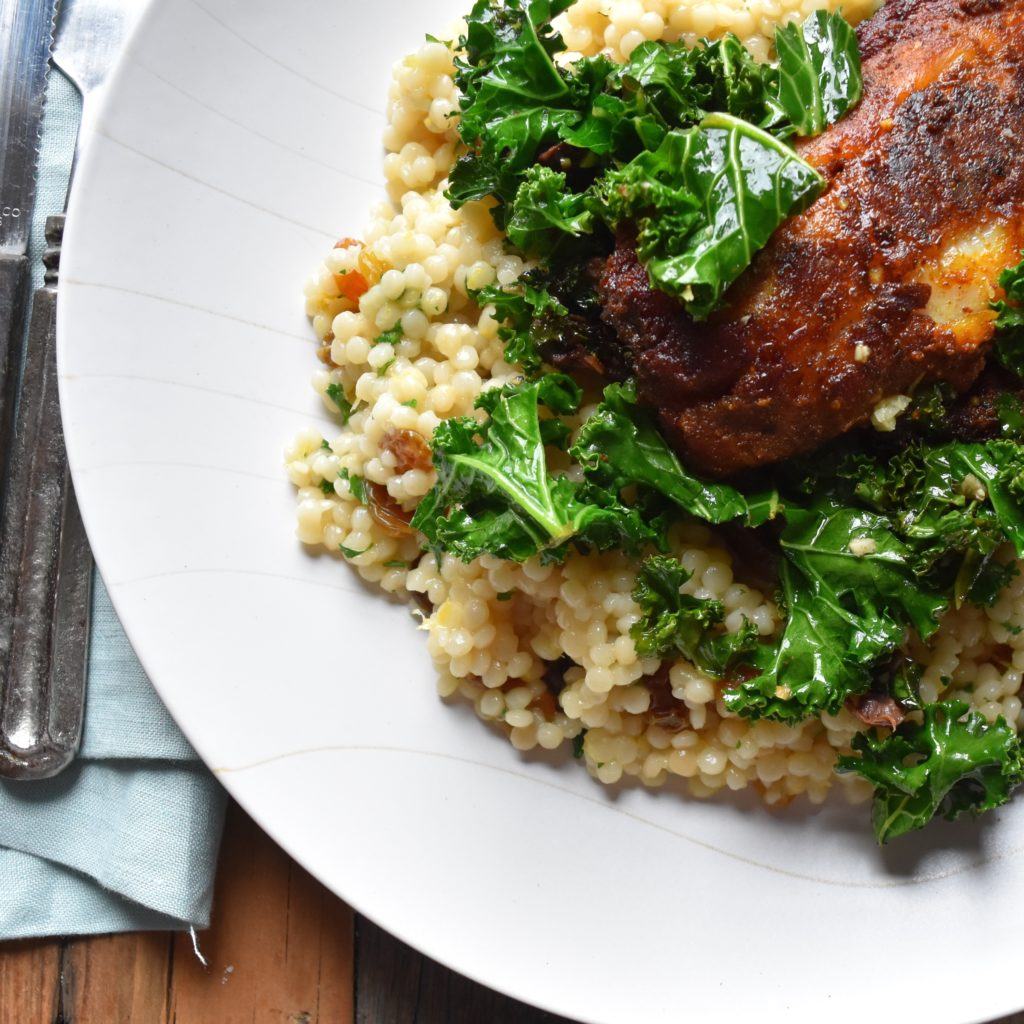 Moroccan Lemon Chicken with Couscous & Golden Raisins
What is Couscous?
• Couscous is not a grain, rather a pasta made of the finest part of the wheat germ, the semolina.
• The original name of couscous comes means "well rolled" or "rounded" for its circular shape.
• There are three different sizes of couscous: Moroccan, Israeli (pearl) and Lebanese.
Couscous is a good source of carbohydrates and proteins combined with a good diet. It can improve circulation, strengthen bones, muscles and immune system. There are whole grain versions of couscous but if you can't find them, feel free to use brown rice instead!
Cooking Terms
Mise en place

prepping all ingredients (cutting, peeling, measuring) before beginning to cook

Mince

to cut food into very small pieces

Sear

to cook the surface of meat very quickly using intense heat

Zest

the peel of, or grating of a citrus peel for flavor
Ingredients
1 1/2 cup pearl couscous (Israeli couscous)
1 1/2 each bunches fresh kale
3 each cloves garlic
1 each lemon
2 tbsp golden raisins
2 tbsp Ras al Ranout spice blend (see notes)
10 sprig fresh parsley
1 tsp vegetable broth base
6 each chicken thighs
From Your Home
Salt
Black pepper
Olive or canola oil
Water
What You Need
Small pot with lid
Large sauté pan
Steps
Mise en place
Read through the entire recipe before getting started. Wash and dry all produce. Remove parsley leaves from stem; discard stem and rough chop. Remove kale leaves from tough stem; discard stem and cut into 1" pieces. Mince or grate garlic. Zest lemon, cut in half and juice. Mix vegetable broth base with 1.5 cups of warm water. Remove chicken thighs from the package; rinse and pat dry. Season chicken thighs with Ras al Hanout and a pinch of salt and pepper.
Cook couscous
Bring vegetable broth to a boil in medium pot over medium heat then, add the couscous. Reduce the heat to low, cover and cook for 10-15 minutes until all of liquid has been absorbed. While couscous is cooking begin searing the chicken thighs (step #3).
Sear chicken
Heat 1 Tbsp. oil in large sauté pan over medium heat. When hot, add chicken thighs to pan and sear 4-5 minutes per side until golden brown and fully cooked.
USDA recommends cooking poultry to an internal temperature of 165 F.
Cook vegetables
Remove chicken thighs from pan, set in cutting board and slice into 1⁄4" strips. Add kale and garlic to previously used pan. Sauté 3-4 minutes until bright green and slightly wilted. Drizzle 1 Tbsp. lemon juice over kale and remove from heat.
Finish couscous
When couscous is done remove from the heat and gently mix in golden raisins, 1 Tbsp. lemon zest and parsley. Season with a pinch of salt and pepper.
Plate your dish
Divide couscous between 2 plates. Top with kale and sliced chicken thighs. Enjoy!